These are Gospel tracts. A tract is a great way to share the Gospel with someone if you feel too imtimidated to talk to them. It's also a great way to put the Gospel into the hands of many people easily. Almost everyone will take a tract from you. Just say something like "Hey did you get one of these?" and people will almost always gladly accept it. They don't want to feel left out. It is also a good way to break the ice when witnessing.
"When preaching and private talk are not available, you need to have a tract ready...Get good striking tracts, or none at all. But a touching gospel tract may be the seed of eternal life. Therefore, do not go out without your tracts." - Charles Spurgeon
Gospel Tracts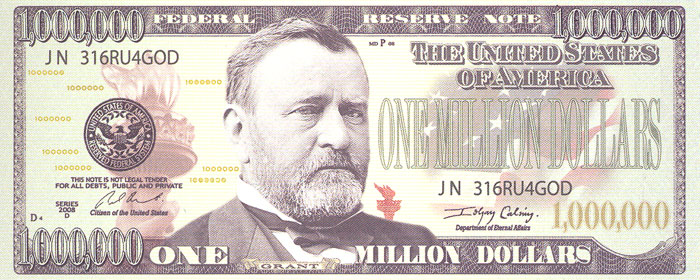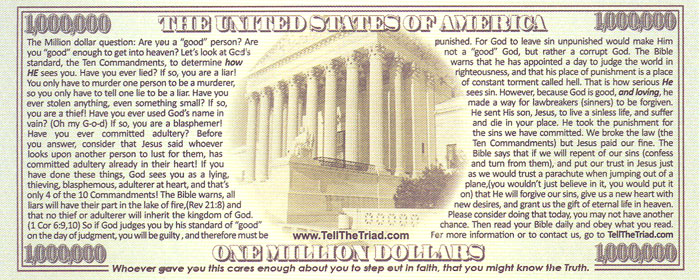 The million dollar bill tracts have gained a lot of popularity in the past few years. They are nice in that people find them interesting and usually take one. They are also bigger so there is more space for Gospel. Living Waters is working on a project to get the 1,000,000 dollar bills translated into 100 different languages. More information on that
here
. You can download this and print it off for personal use. Click on the picture for a full sized image.
These tracts are all useful to get people to think about their eternity or as ice breakers when whitnessing. Just click on the images to get a full size image. Download an editable Word Document with pages of these tracts to print off at home here. Click here for a PDF version.